Balloon Sinuplasty is a minimally invasive, surgical procedure recommended for patients suffering with chronic sinusitis. This procedure is ideal for the 20 percent of patients with chronic sinusitis that have tried traditional treatments (such as decongestants and/or antibiotics) with no results.
What Makes Balloon Sinuplasty Different?
While surgical options for treating sinusitis have been around for years, they typically focus on removing bone and tissue in order to clear the blocked sinuses and improve drainage. As with any surgery, there are risks and pain and scarring are common in the lengthy recovery period.
In comparison, Balloon Sinuplasty is quick (the average operating time is 73 minutes) and relatively painless, and has a lower risk of complications or side effects. It is FDA-approved and considered a safe alternative to endoscopic sinus surgery.
How Does Balloon Sinuplasty Work?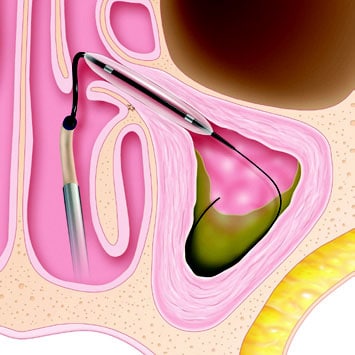 A small, flexible balloon is inserted into the blocked sinus through the nose. Once inserted, the balloon is inflated, thus opening up the blocked sinus. Saline is then sprayed into the sinus through the newly expanded opening to clean out any mucus or fluid buildup. Finally, the balloon is removed, leaving a clean and open sinus behind.
This procedure is able to widen the previously blocked sinus without having to cut into the bone or remove any of the lining, which can damage the integrity of the sinus.
Is Balloon Sinuplasty Safe?
Balloon Sinuplasty has been available since 2005 and in the last 15 years, 535,000 patients have used it as a treatment for their chronic sinusitis. The procedure is simple enough that it can be performed in the doctor's office under general anesthesia, instead of in a hospital's operating room. A short recovery period enables patients to resume normal activates after only two days. While results vary between all individuals, most still reported symptom improvement two years after the procedure.
Call Ear, Nose and Throat, LTD at (757) 623-0526 for more information or to schedule an appointment.